what to look for when requesting exterior painting estimates and what to expect from professional painting companies!n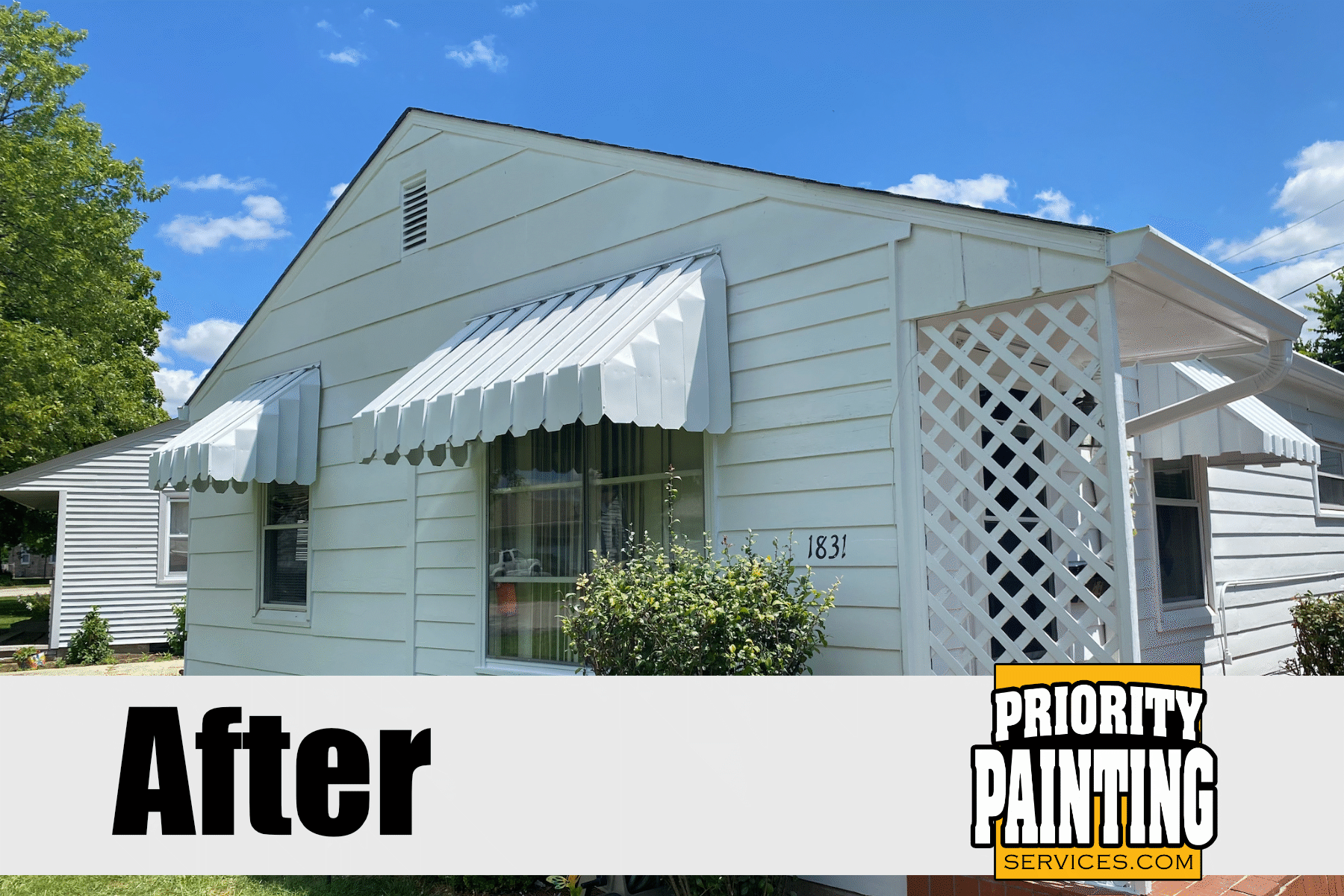 Painting the exterior of your home is a significant investment and as a smart consumer, you should be aware of what to look for from painting companies serving the greater Indianapolis and the surrounding areas. In this blog we will be looking at what to expect from painting companies from the very first contact they have with you, to the process of getting an estimate and what an estimate should cover.
We hope that you find this information helpful as you're looking for a painting contractor !
Where to find painting contractors
The most common way consumers are finding painting contractors is by doing a google search which not only allows you to visit their website but other platforms that include their social media and home service provider platforms (Angi, Homeadvisor, etc) as well. Another way to find a painting contractor is from referrals from family, friends and more commonly used now, social media like Facebook and the Nextdoor application. For someone that may have never worked with a painting contractor before, referrals are the best way to find professionals that have already proven their services to someone that you know or that might live in your area. Something important to keep in mind is that your expectations might not be the same as the people that have given you the referrals, so it's still important to do some further research!
Once you get the name of a painting company, the first step should be to visit their website and check out their social media presence. A company's website should be the hub for the company to show off their work, reviews, social media, and information about the services that they offer. Previous work and reviews can help you feel confident that the company you're considering for your project is established and that the experience from other customers has been satisfactory and if there were problems, that they handled them professionally!! Social media is also helpful as you can see what they're doing on a daily basis which is a good sign that the painting company is active and engaged with their projects!!!
Once you find a company that you feel would be a good fit for you, the only thing left to do is to contact them!
I've contacted them, now what?
Now that you have submitted your request for an estimate, it's important to look for the following things that will give you an idea of what to expect if you decide to choose them to help you with your project.
Are they considerate of your time? Everyone in the greater Indianapolis and surrounding areas is very busy as the weather is starting to warm up, but responding to your request in an appropriate time to talk about your project should be the least a company can do to see if they would be able to assist you. Waiting more than a day or two should be a red flag because automated systems and established processes can be set up in order to get back to you in a reasonable time. Lack of communication between painters and customers is one of the biggest issues in our industry and this is not only lack of communication on answering phone calls but also in the work site. For example, switching start dates at the last minute, having crews come unannounced to powerwash and paint! This can lead to a lot of missed steps in the painting process and leave you with unpleasant surprises for you and your family. Response time… How long does it take them to respond to your consultation request?
What kind of questions are they asking? More than just asking what do you need to paint, are they asking you about the vision that you have for your project and what are the expectations that you have for your project? Established companies offer painting services but more importantly, we want to partner with you to work on your home and have a stress-free experience that you have ever received from any service company! Building rapport with your painting contractor about your expectations, past experiences that you've had with other contractors and what's important to you can tell you that the painting contractor is not just focused on throwing some paint around your house, but that they actually care about you and your family when helping you with your project.
Do they aim at informing you? or are they the experts and they know better? As consumers, we all have set expectations and desired outcomes for our projects but sometimes we fail to account for things that professionals see on an everyday basis. For example, it's our job to explain why choosing a lighter trim color from the current dark color will most likely not be achieved in the one coat coverage like you had hoped because the dark color will most likely show through after the first coat. Painting contractors should aim to talk to you about their past experiences with things like this, different products that the've used and their training in order to communicate to you why they use certain products and follow certain procedures.
What should be included your estimate?
Importance of powerwashing
Painting over dirty surfaces is a sure way to get a failed paint job! It's important that the company that you are looking to help you with your painting project has the appropriate training and chooses the correct products that will help with the removal of dirt, mildew, moss, etc. Without the right products and experience for the powerwashing, the exterior of your home could be damaged or not properly prepped for painting. It's important to remember that no matter how good the paint that you use for your project is…… it will fail if applied over dirty/contaminated surfaces!
It's important that the painting contractors do the powerwashing for your project because powerwashing may seem like am easy DIY project but applying too much pressure (getting too close) to the exterior surfaces can be destructive and it will only cause frustration, costly repairs and even put you in danger if attempting to powerwash using ladders to reach high places. Hours of practice and product training make powerwashing look easy!!
What products are used for power washing?
Water alone may be sufficient for most surfaces but when pressure alone isn't enough to remove mildew, moss or tough stains, products like simple green and/or bleach may be the best options for your project and will assure that surfaces are not contaminated before painting. These products won't remove the stains completely but they will certainly make sure that the surface is clean in order to paint to adhere. An advantage of using chemicals like the ones mentioned above is that the cleaning is more dependent on the chemicals and not just the pressure alone, meaning that getting getting close to the exterior surfaces is not necessary (preventing any possible damage).
Bleach: The active ingredient in bleach is sodium hypochlorite, a chemical that when diluted, it's used in drinking water, swimming pools and even in clinical setting. Established painting companies should be able to dilute bleach appropriately in order to have a safe environment around your home when powerwashing.
Something to ask for when going through an estimate with the potential painting contractor that will help you with your project is to ask them if they have any checklists or information for the day of powerwashing. All of the products used to clean exterior are not harmful but established companies should inform you of how to prepare for their arrival for the day of the powerwashing of your project. Informing you what should be moved or stored away goes a long way in preventing your furniture, kids toys and your other belongings from being exposed to too much soap or bleach!! It's something small but every project is different so accommodating to your situation is crucial in order for your experience to be a good one. If painting contractors don't have systems in place, they may overlook certain things that may be important to you. They should provide you with some sort of list of expectations for the day when they stop by to powerwash/paint or at least an email with some things that you should expect for that day!
After powerwashing
Powerwashing creates a clean canvas for the painting of your project, Unfortunately many steps are missed or skipped because the lack of systems or processes in many companies. Scrapping of chipped paint, caulking seams and priming bare surfaces are the most common missed steps that may not be noticeable after the painting crew finishes your project, but it will definitely show weeks or months after the completion of your project. All companies offer warranties to fix these issues if they do arise, but wouldn't be more efficient to prevent these things before they happen?!
Three must for the preparations of your exterior project!
Scrapping: It doesn't have to be a fancy sanding machine to appropriately prevent loose paint from becoming a problem…. A simple tool like a 5-1 tool followed by a good primer that will the finish coating adhere to the recently scrapped surfaces will prevent you from calling the painter to come back for touch ups.
Caulking: Using good caulk can prevent continuous cracking in seams that if not properly applied, can come out soon after the job has been completed and as the weather changes. We understand that there will be areas in your house that have lots of motion but for whatever reason, it has been caulked in the past and look better caulked but regardless what kind of caulk you use, it always cracks! Decent caulk can hold up longer than lower performing caulk products and the price difference between a decent caulking is of $1-$2 per tube!! The only difference is that "affordable" caulking is how quickly the product dries which is great if you are rushing through a project but if companies are following appropriate steps to prepare your house, caulking should have more than enough time to dry off before painting even begins. Make sure that the painting contractor is planning in using good quality caulk that is the best fit for your project!! Our go to caulking is Sherwin William's Power House for both exteriors and interiors because it has a 60 year lifetime and has great flexibility that's demanded for both interior and exterior projects.
Problem Areas: Like mentioned above, some areas are just problematic and even if you put the most amazing calk on it…. it will fail! Painting companies run into this all the time and securing boards may be something that needs to be performed in order to prevent persitant caulk failure. A painting professional should let you know of this beforehand and not just skip over it hoping that you don't see it!! Securing boards, and filling considerable gaps can be ways to prevent constant failure of caulking application.
The last step – Painting
Not all projects are the same, depending on what you want out of your painting project, companies should be ready to accommodate to your needs in order to get the results that you're looking for!
Coatings: As the experts, we should be able to guide you whether you need one coat, two coats and what kind of paint that your need in order to obtain the outcome that you're looking for. For example, if you're looking just to freshen up your house and keeping the same color, a one coat application would be more than sufficient. On the other hand, if you're looking for a color change or your house hasn't been painted in some time….. it's more than certain that you will need a second coat because the first coat will be heavily absorbed and the second coat will be the actual protective coating for the exterior surfaces. Established companies will take the time to speak with you to find out what you want out of your painting project and explain what's the best way to tackle your project.
Brushing, Rolling, Spraying: Different surfaces require different methods of paint application. For example, wood surfaces require more than just spraying, wood surfaces actually need to have product pushed into the porous surfaces in order to have a good protective coating. On the other hand, hardi-prank, vinyl and aluminum surfaces don't have porous surfaces, so spraying would be an acceptable way of applying the paint to leave the best finish.
What are they using?!: Are they transparent about what products they are using? Painting contractors should describe what product they intent to use for your project and not just a vague "satin paint" description. Vague information can lead to lower quality products being used on the job, sneaky upsale after your project has started or your deposit has been submitted! Established companies should list the products they will use and provide options for you in order to established transparency!
Are going to sell your home? Are you looking to a quick freshening up of the exterior surfaces? Or are you looking to do a complete make over?
Options: This is a sample of what we offer in our estimates followed by the manufacturer product description.
Out of all the steps this can be considered the "easy" step out of all the required steps in order to have a successful exterior painting job! However, like mentioned in the beginning of this blog, painting companies should have options for your project in order to figure out what is the best fit for your project and able to explain these options in a professional manner.
Insurance and Warranties
Systems and processes keep companies accountable in order not to skip steps but along with systems and processes, something that you should also look for is proof of Insurance and not just take their word for it! Warranties offer protection not only for you and your home but for the employees working in your home as well! Reputable companies should be able to show you their warranties in writing along with their proof of insurance before they proceed with any work offered to you.
It's something that many don't think about but it can certainly cause many problems where if something were to happen in your property, the responsibility falls on the homeowner. It should be a must for companies to provide this information when asked.
Choosing the best fit for you
The painting of the exterior of your house should be a pleasant experience without headaches or stress. Companies with appropriate systems and processes should deliver an experience that will make you enjoy the transformation of your home without worrying about, "Did they forget to caulk the problem window that I talked to them about?", "I hope they primed all that new boards that were recently installed". You deserve to enjoy the process and feel confident in higher a professional to help you with your project. Looking for some of the things addressed in this blog will help you get a professional that can deliver for you!
If you find this information helpful, we would appreciate if you could pass this information to your friends and family that may be looking to have their exteriors painted by sharing this blog!
Areas of Service: Avon Clayton Greenwood McCordsville Westfield Bainbridge Danville Indianapolis Noblesville Whiteland Brownsburg Fishers Lebannon Pittsboro Whitestown Carmel Fortville Lizton Sheridan Zionsville